we bought a boat!
On April 1st, 2016, after months of searching, & years of wishing, & anticipating, we purchased our first place together - a 2001 Lavranos designed 36 ft sailboat named WY STA.
As I've been contemplating how to start sharing our story in written word, the same thing keeps shouting to be said: our wishlist given our budget was, for lack of a better word, unreasonable. I think that's what makes this story feel so synchronous to me - it's not logical, it's not reasonable, but it is what happened. I guess I also feel compelled to include this, in case you are in a similar situation I was in then, devouring any & every bit of information from people who are actually doing this thing you want to do, so you know that sweat equity truly can bolster your cash budget. But it is sweaty. & time consuming. & not nearly as easy as anyone makes it look on YouTube..
To rewind a bit, the first thing most people ask is "Why?" My nearly instantaneous response is often, "Why not?" But that's not quite it. There is a why. & maybe my gut reaction to question that question, is a defensiveness that to some degree I'm following someone else's dream. This was Bryant's vision, back in the days when we were just friends. He would talk about sailing the U.S. Virgin Islands & surviving on the fish he would catch & slowing down to enjoy the simplicity of life. In comparison to the hustle & bustle of finishing up my masters program, working as a graduate assistant, teaching classes, coaching clients, & starting a wellness coaching business, his daydreams sounded so.. dreamy! So on the weekends we would watch the video logs from SV Delos & Sailing La Vagabonde & fantasize about our future adventures.
Fast forward a few years, Bry & I were officially a "we" & this whole "buying a sailboat" thing was the inspiration for us to save our income to make our dream happen. Bryant was now pro at efficiency checking the sailboat listing sites with our criteria: 24-40 ft blue water ready boat for under $20,000. To me, this was a huge amount of money. In the boat market, it was a drop in the bucket. Oh & we also wanted a water maker ($), a fridge/freezer ($), solar panels ($$) & an open layout with a large galley/kitchen & a second bedroom (pretty much impossible in our budget). I had read along the way that it was bad juju to change a boat's name, so of course it also had to already have the "right" name. This was about the time that our leisurely after work searching started becoming a bit stressful.
Around this time I started manifesting for our dream boat. My lovely logical Capricorn would roll his eyes as I would talk about finding the perfect boat in our budget owned by a guy (idk why, but always a guy) who loved her, but could no longer keep her & she would be everything we wanted, but she would need a little love. I also started dutifully searching the entire east coast via Craigslist. One ordinary Wednesday I saw a listing in Alexandria, Virginia for a 36 ft boat by a designer I'd never heard of for $15,000. I was a bit shocked when I researched the brand & the only comparable boats were 50, 60, 75 thousand dollars. I messaged Bryant & the listing straight away, incredibly excited, but reasonably skeptical. If it's too good to be true..
The boat was already booked to be seen all day that Saturday & most of the day Sunday, save for a noon time slot. Since Alexandria is six hours & change from Columbus, we asked the seller to update us wether it had been sold or not Saturday night. She hadn't been sold, so we packed ourselves & the pup at 5:30a that Sunday morning for the first of many drives to northern Virginia.
As we got closer, we began to get a bit concerned. Our final destination wasn't anywhere near the water, in fact it seemed to be in an industrial park.. Were we about to get jumped? Fortunately for us, our little doggo is a fierce thing & besides ourselves, we had nothing of value, so we pulled up to the boat yard despite our hesitations. A friendly, weathered face greeted us & before we knew it we were climbing the ladder to see inside SV Why Stay for the first time.
My first reaction was simply a gasp - I couldn't believe how open the interior was & how much she already looked like home (especially in comparison to the boat we had seen the weekend before). My second reaction was to resist the urge to wretch, brought on by the strong stench of mold & mildew (especially in contrast to the boat we had seen the weekend before). The seller took us throughout the boat & we confirmed that she did have a large galley & living space ✔️, a desalinating water maker ✔️, a fridge & freezer✔️, solar panels ✔️, & a guest bedroom✔️. It became obvious that the drastically discounted price was based not only on the amount of work she would need, but also the seller's desire to get to chose who he sold her to - someone who would bring her back to glory as a blue water cruiser. We were giddy with excitement & when the next appointment arrived, we toured through the boat a second time. After that man left, we talked through the project to do list with the seller & shared glances with each other, telepathically asking if this was actually happening & if we should offer him asking price on the spot, so as not to miss out on this opportunity. What was meant for me will never miss me and that what misses me was never meant for me.
Realizing it was nearly 3p & we still had hours left to drive, we reluctantly said goodbye & got back in the car. After enthusiastically recounting the experience to our parents & realizing that this particular boat was ticking off all of our boxes, we called the seller back to offer asking price. He sounded as happy as we felt that we wanted this boat to be our home. I'm not sure we would have been nearly as excited if we would have realized at that point how much time, effort, & energy the refit would entail, but now that we are nearly done I couldn't be more glad or grateful for the entirety of the experience - okay, maybe not the whole showering under a hose in an industrial park, but that's another story for another time.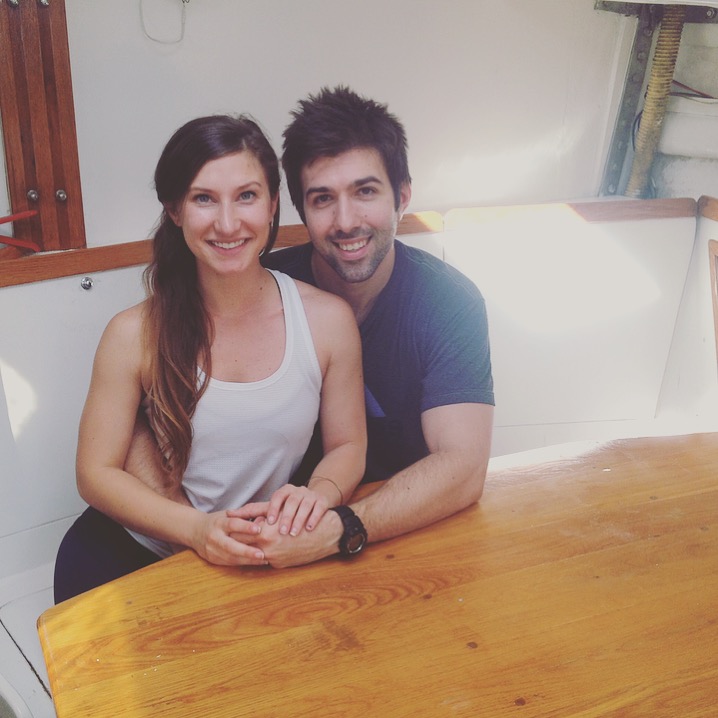 we just signed on a SAILBOAT!
(which, coincidentally is our first place together)